Canals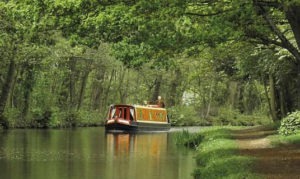 The Trent & Mersey Canal was authorised in 1766 and opened in 1770, the project being primarily Josiah Wedgwood's desire to exploit the navigable lengths of the Rivers Weaver and Trent (Sherlock 1976, 117).
The Coventry Canal was authorised in 1768 when an Engineer called Brindley won the contract to build the canal from Coventry to link with the Trent and Mersey at Fradley, but it was not completed until 1787.The project ran out of money and was rescued in 1783 by a consortium called the Coleshill Agreement won the contract to finish the project.
Fradley Junction was opened around 1790 to boating traffic and was an important stop off to boaters at the time providing food and drink and undoubtedly stables for the horses to rest. It connected the Trent & Mersey Canal with the Coventry Canal and a holding reservoir was built by the Trent & Mersey Canal Company to the North side of the Trent & Mersey. In 2003, then British waterways turned the reservoir into Fradley pool nature reserve.
Fradley Junction developed as a small hamlet where the two canals met. The junction was always busy with boats carrying raw materials and finished goods to and from the Potteries in Stoke and the breweries in Burton on Trent.
The canal companies built wharves and warehouses for their staff and stables for their horses at Junction Row in the early 1800's which include the Swan Inn which could stable 22 horses.
In what is now the Canal and River Trust courtyard there were busy workshops where blacksmiths and carpenters made and repaired lock gates and other equipment for the canals.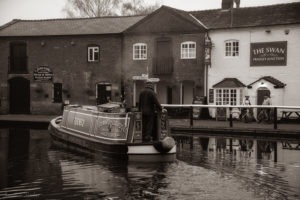 In the early part of the 20th century the canals went into decline due to increase in railways and roads but in the last 50 years the canals have been revitalised by the growth of leisure boating and Fradley Junction is now one of the busiest canal locations in the Midlands Canal network. Some of the workshops and storage buildings have been converted into offices, a visitor reception and Welcome Station, cafe and a base for local businesses. Today Fradley Junction is one of the busiest sites along the canal network and sits in a defined conservation area.